Kale, Peach, and Cabbage Salad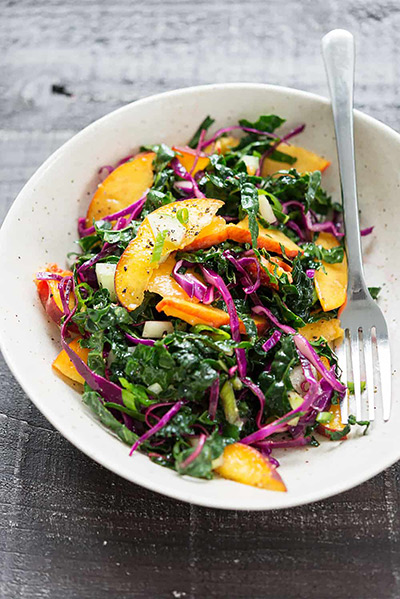 Full of vitamin C-rich kale, peaches, and red cabbage this salad boosts your collagen.. 
1 bunch kale, preferably dinosaur/lacinato 

1 cup finely shredded red cabbage 

1 cup cucumber, peeled, seeded and thinly sliced 

2 scallions, thinly sliced 

2 tablespoons extra-virgin olive oil 

2 tablespoons fresh lime juice 

1/2 teaspoon salt 

1/4 teaspoon freshly ground black pepper 

2 ripe peaches, thinly sliced
In a large bowl, toss together the kale, cabbage, cucumber, and scallions.
Drizzle on the olive oil, lime juice, salt, and pepper, then massage into the slaw for 1–2 minutes to gently wilt the kale and the cabbage (will aid in ideal digestion and absorption). Taste, adding more salt, pepper, lime, or olive oil as needed. Add the peaches and toss again. 
Super Seed Baked Oatmeal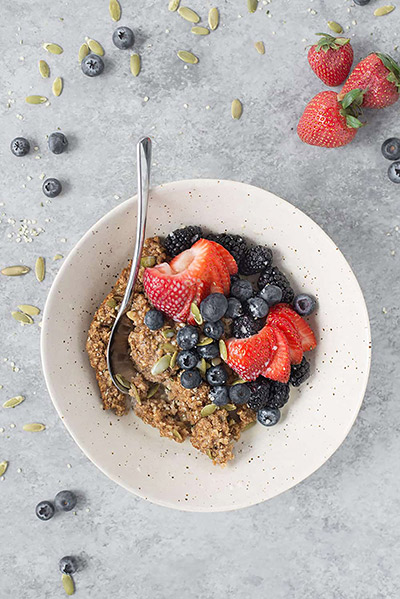 This baked oatmeal is rich in gamma-linolenic acid, or GLA, an essential omega-6 fatty acid that helps your body lock in moisture for healthier, more supple skin.
2 tablespoons ground flax seeds 

1/4 cup water  

1 large ripe banana, sliced 

1 1/2 cups quick cooking oats 

3 TB agave or honey

1/2 teaspoon cinnamon 

1/4 teaspoon ground ginger 

1/8 teaspoon ground nutmeg  

1 teaspoon baking powder 

1/4 teaspoon salt 

1/2 cup + 2 tablespoons hemp milk (or other nondairy milk)  

1/3 cup pure maple syrup 

1 teaspoon vanilla extract 

2 tablespoons melted coconut oil  

1/4 cup pepitas (shelled pumpkin seeds) 

2 tablespoons hemp seeds  

fresh berries, for serving  
Preheat oven to 350 degrees F. Lightly spray an 8-inch square pan with nonstick spray. 
Whisk together the ground flax seeds and water in a small bowl, then set aside to gel. 
Slice the banana and place in a single layer on the bottom of the square pan. 
In a separate bowl, mix together the oats, agave, cinnamon, ginger, nutmeg, baking powder, and salt. Add the flax seed mixture, hemp milk, maple syrup, vanilla, and coconut oil. Stir together, then fold in the pepitas and hemp seeds. 
Gently top the sliced bananas with the oat mixture. Place in the preheated oven and bake for 30 minutes until golden brown and set. 
To serve, scoop the baked oatmeal into a bowl and top with fresh berries and more hemp milk.  
Yellow Curry Bowls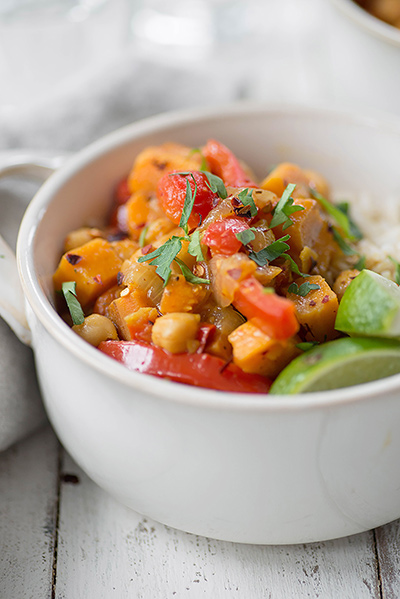 These easy curry bowls are gluten-free, dairy-free, and sugar-free, and packed with antioxidant-rich vegetables.  
1 tablespoon oil  

1 1/2 teaspoon yellow curry powder 

1 teaspoon fresh grated ginger 

1/4–1/2 teaspoon red pepper flakes  

1/2 yellow onion, thinly sliced 

1 red bell pepper, thinly sliced 

2 cups chopped sweet potatoes  

1 14-ounce can light coconut milk 

1 cup vegetable broth 

2–3 tablespoons yellow curry paste  

1 teaspoon soy sauce 

1 14-ounce can chickpeas, drained and rinsed 

Juice of 1 lime 

Cooked rice, for serving 
In a large sauce pan, heat the oil over medium heat. Add the curry powder, ginger, and red pepper flakes; toast until fragrant, about 1 minute.
Add the onion and cook until translucent, but not browned, about 5 minutes.
Add the bell pepper and sweet potatoes, then add the coconut milk, vegetable broth, and curry paste. Simmer over medium-low heat until sweet potatoes are tender, about 25 minutes.  
Stir in the soy sauce and chickpeas. Simmer an additional 5 minutes.  
Stir in the lime juice, season to taste, and serve over cooked rice. 
Ginger Pear Smoothie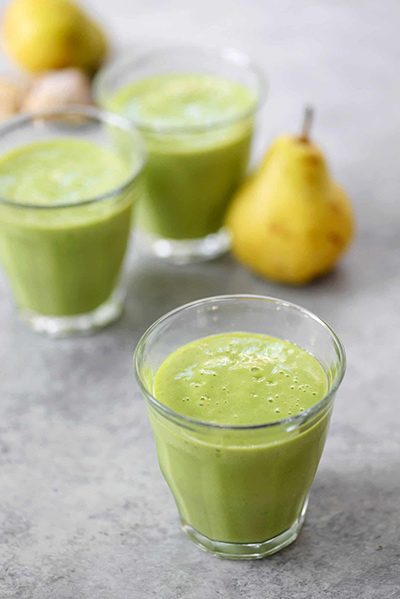 Enjoy this simple smoothie for delicious, vitamin-infused hydration.   Serves 4. 
2 cups fresh spinach leaves 

1 1/2 cups almond milk  

4 medium pears, chopped 

1-inch fresh ginger, grated 

1/4 teaspoon ground cinnamon 

1 teaspoon vanilla extract 

1 frozen banana 

1/2 cup ice 
Place all ingredients into a blender and puree until creamy and smooth. Divide into glasses and serve.